May/2022 Lastest Braindump2go AZ-500 Exam Dumps with PDF and VCE Free Updated Today! Following are some new AZ-500 Real Exam Questions!
QUESTION 368
You have an Azure subscription that contains the resources shown in the following table.



You plan to deploy the virtual machines shown in the following table.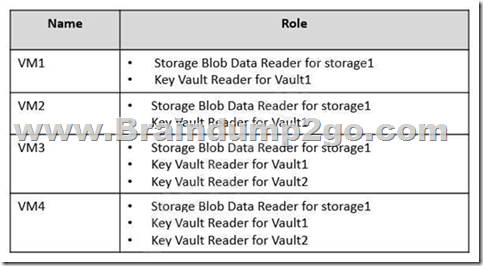 You need to assign managed identities to the virtual machines. The solution must meet the following requirements:
– Assign each virtual machine the required roles.
– Use the principle of least privilege.
What is the minimum number of managed identities required?
A. 1
B. 2
C. 3
D. 4
Answer: B
Explanation:
We have two different sets of required permissions. VM1 and VM2 have the same permission requirements. VM3 and VM4 have the same permission requirements.
A user-assigned managed identity can be assigned to one or many resources. By using user-assigned managed identities, we can create just two managed identities: one with the permission requirements for VM1 and VM2 and the other with the permission requirements for VM3 and VM4.
Reference:
https://docs.microsoft.com/en-us/azure/active-directory/managed-identities-azure-resources/overview